Team Rising Sun Racing JP

Kumano LCR-F2

Team Rising Sun Racing
Masahito Watanabe & Hideyuki Yoshida. Background: Louis Christen, Masato Kumano and Mr. Ijima

Current Japanese Sidecar Champions Masahito Watanabe and passenger Hideyuki Yoshida made their TT debuts in 2007. The pair, who run under the team banner of 'Rising Sun Racing', have always finished their home championship within the top 3 since stepping up to Formula 1 in 2001. In 2006, they finally clinched the National Title, and so their attentions have now been firmly focused upon a successful TT debut.
The pair visited the Island twice in recent months to witness the Southern 100 and again to attend the Newcomers Day for sidecar entrants. Spending extra time on the Island in the company of LCR-rider Nick Crowe, the Japanese know exactly what it takes to make the transition from circuits to roads.
The team had also secured the services of former World Championship regular Masato Kumano who will act as Technical Manager. Kumano, who was at the forefront of World Sidecar in the late 70's and early 80's, was actually the first sidecar driver from Japan to take on the mighty TT course back in 1978. Kumano has also been closely involved with the LCR outfit from its beginnings and will bring a wealth of knowledge and experience to the Japanese team.
In their first year, and with a new Formula 2 LCR outfit, Watanabe and Yoshida aim to build slowly and come away with respectable lap times as Klaus Klaffenböck did in 2004.
(http://www.iomguide.com/races/tt/tt-news.php?story=101787)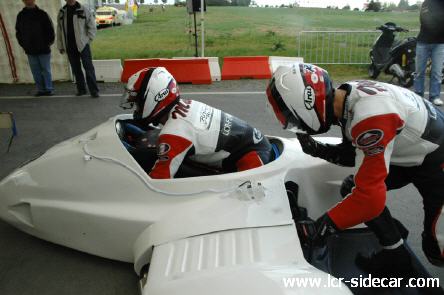 Start in Schleiz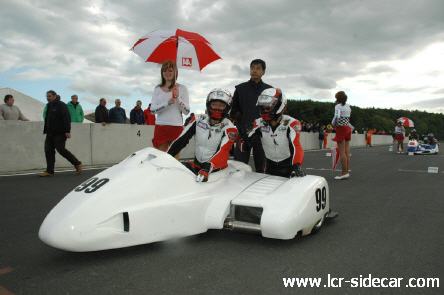 Masahito Watanabe, Hideyuki Yoshida and Masato Kumano

www.kumano.de Webside of Ex-GP racer and Teamchef Masato Kumano (in japanese language).
Sidecar Links Japan
http://www.tt-sidecar-challenge.jp/
http://www5d.biglobe.ne.jp/~office-t/man-10/
http://www2u.biglobe.ne.jp/~ozeki/Team_OZEKI/Team_OZEKI_index2.html
http://www.dna.gr.jp/JRSA/jrsa-top.html
---------------------------------------------

The author is not responsible for any contents linked or referred to from his pages - unless he has full knowledge of illegal contents and would be able to prevent the visitors of his site fromviewing those pages. If any damage occurs by the use of information presented there, only the author of the respective pages might be liable, not the one who has linked to these pages. Furthermore the author is not liable for any postings or messages published by users of discussion boards, guestbooks or mailinglists provided on his page.